365-367 Harvard Street
Cambridge, MA - Sold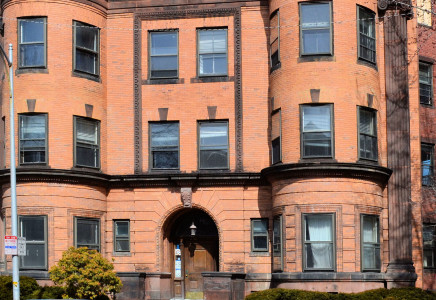 $7,280,000.00
Size: 16,885 sq. ft.
Lot Size: 11,166 sq. ft.
Building Structure: Brownstone & Brick
Zoning: C-2B
Total Rooms:
Basement: Unfinished
Floors: Four Stories
Year Built: 1895
-SOLD-
Harvard St. #365-367 mkt brochure    harvard st #367-floor plans
We are pleased to present for sale 365 & 367  Harvard Street, located in the Harvard Square area of Cambridge.  This rare property includes two distinctive buildings in the Mid Cambridge Neighborhood Conservation District.   The buildings are sited on an 11,166 sq. ft. lot and are deeded as one property.
367 Harvard Street – "THE TEMPLETON"
An impressive four story, eight unit apartment house designed in 1895 by well-known architect John A. Hasty for William Bradbury, principal of Cambridge Latin School.  The structure is considered to be the most outstanding example of early brick apartment buildings designed by John P. Hasty.  The building is constructed of brick and brownstone and contains approximately 16,885 sq. ft. of living space plus a full basement.
The building has been cleared of all the debris and is ready for interior rehab as a result of a fire that originated on the 4th level of the property in June, 2013.  The property will be delivered vacant and is being sold in its current "as is" condition.
The 4 story apartment building has 2 units per floor: Each floor contains 4,201 SF (per city records): Each unit consists of 7 Rooms: living room, kitchen, pantry, 2 baths, 4/5 bedrooms.
365 Harvard Street –  Single Family House
A two story, single family structure built in the bracketed Italianate style in approximately the mid 1800's and was owned by William F. Bradbury.  This home is currently leased until August 14, 2014 at a rent of $5,000 per month.
The single family house consists of  1,542 SF of living space (per city records)  7 Rooms: living room, kitchen, 1.5 baths, 3/4 bedrooms.   Systems include gas heat (newer unit) and upated electical (100 amps).
Share this:
365-367 Harvard Street
Cambridge, MA - Sold
Contact Us or Request a visit
Please call Call 1.800.123.4567 or you can fill out the form below and we'll get back to you shortly.
[contact-form-7 404 "Not Found"]