"Holiday Stroll : Shop & Dine in the Village"
Your local business owners would like to extend an invitation to Shop & Dine in Huron Village this coming Thursday, December 11th, 2014 –  6:00pm to 8:00pm.
Come enjoy the festivities; listen to the strolling Musicians; find some beautiful gifts; eat, drink  & be merry with a friend. We hope to see you there!
We wish all our wonderful neighbors and clients a very Happy & Healthy Holiday Season!
C. Brendan Noonan & Company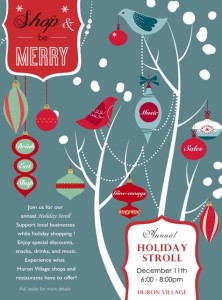 Share this:
You can follow any responses to this entry through the RSS 2.0 feed.